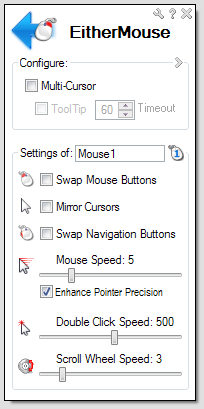 EitherMouse Setup.exe
EitherMouse.exe
EitherMouse.zip
EitherMouse
Multiple mice, individual settings...
Instantly changes settings when any mouse is used:

swap buttons
mirror cursor
adjust speeds
and more...



Leave multiple mice on a pc and automatically swap buttons on each mouse.

Have a left-handed and a right-handed mouse always connected and ready to use.

Match speeds across different mice, ie touchpad and mouse with different speeds.

Accommodate left-handed and right handed users easily on multi-user or public workstations.

Helps prevent RSI/injury issues by allowing seemless switching between hands.

Quickly change mouse settings from system tray if only one mouse is used.


100% virus, malware, and spyware free for over 10 years! Despite many false positives...



Tested on: Windows 11, 10, 8, 7, Vista, and XP, feedback welcome!